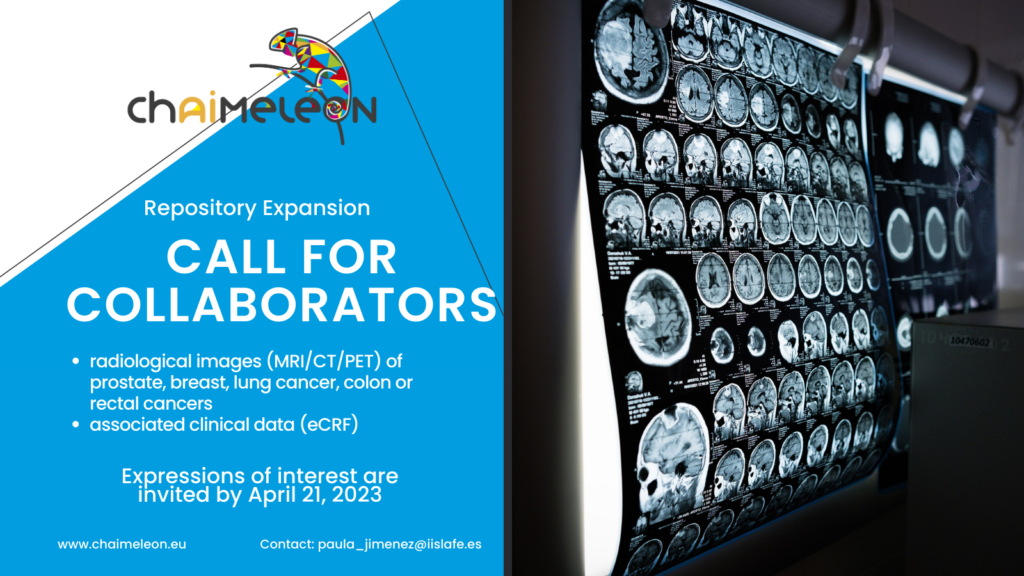 The CHAIMELEON consortium is reaching out to clinical centers to collaborate in this ground-breaking EU project aiming to accelerate the bench to bedside transition of AI tools for cancer management. This initiative will do so by creating a cloud-based cancer imaging repository open to AI developers working on the development of cancer management solutions.
Following the successful development of the repository infrastructure and its ongoing population with medical datasets from consortium partners, we are planning to expand the repository with external clinical cases. This critical phase of the project will aid the scalability and adaptability of the developed AI-powered solutions created as part of the project.
We are looking for EU hospitals and biobanks that can provide retrospective datasets, including radiological images (MRI/CT/PET) and associated clinical data (eCRF) of prostate, breast, lung cancer, colon or rectal cancers.
Notably, some of the benefits of collaborating in the ChAImeleon project are:
A compensation of 50€ for each patient dataset.
Access to results as well as the developed clinical decision support tools.
Invitation to project meetings.
Authorship in scientific publications.
The opportunity to participate in future proposals.
For further details contact the CHAIMELEON Project Manager: paula_jimenez@iislafe.es